Plaza Las Terrazas

Plaza Las Terrazas is a new shopping and entertainment center, opened since the end of 2016. It's located in the eastern part of the island of Cayo Santa Maria (Punta Cerquita), just next Hotel Ocean Casa del Mar by H10.
"Pueblo" means village, but in this case it's rather an area consisting of many shops and entertainment places where tourists will find many other options besides those offered in their All-Inclusive hotel, and at very reasonable cost too!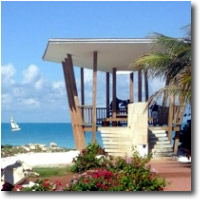 Services:
Services offered include: A beach club, a Casa de Habano (cigar lounge and boutique), a Cuban restaurant "Guajiro", a few bars (including the Terrace Bar Cha Cha Cha), a discotheque, a bowling house (Bolera) with a function room and billiard tables, a shopping plaza with several air-conditioned shops, a crafts market, a spa, a beauty salon, and a wedding gazebo.
How to get there:
Guests staying at the Ocean Casa del Mar by H10 can go on foot. The hotels Labranda Cayo Santa Maria and Valentin Perla Blanca are also within walking distance; the shortest way would be to walk there by the beach. Guests from other hotels can go by taxi (3 to 10 CUC one-way, depending on hotel) or with the Panoramic Bus (2 CUC one-way) which stops at every hotel, pueblos (plazas), and the Delfinario (dolphinarium).
Contact information:
Plaza Las Terrazas
Address: Cayo Santa María, Caibarién, Villa Clara, Cuba
Phone: (53 42) 350 584
Email: comercial@plazasantamaria.gaviota.cu

Photo Album - Plaza Las Terrazas
Click the following links to view aerial images showing...
The Cayos of Villa Clara (Cayo Santa Maria, Cayo Las Brujas, Cayo Ensenachos)
The location of hotels, tourist attractions and services in Cayo Santa Maria
The location of hotels, tourist attractions and services in Cayo Las Brujas
The location of hotels, tourist attractions and services in Cayo Ensenachos
Lily & Normand
© cayosantamaria.info
© destilino.com