Caibarién

Caibarién is a fishing town located on the northern coast of Cuba, in the province of Villa Clara. It's the main port for the province and it's the last municipality which we cross before getting on the 48-km causeway (pedraplen in Spanish) leading to the "Cayos de Villa Clara" (Cayo Santa Maria, Cayo Las Brujas and Cayo Ensenachos).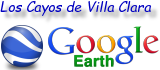 It's easy to get to Caibarién from the all-inclusive resorts located in the three cayos. You can go by taxi (the driver will be your guide), or by renting a car or jeep. We had the chance to visit Caibarién at our own pace (with a rented jeep) and we truly enjoyed discovering this charming city, it's easy and safe to drive around town, however we suggest returning to the hotel before dusk because the causeway is very dark at night. Note that there's a toll of 2 CUC per car (each way) to cross the causeway, the toll booth is at the beginning of the pedraplen (Caibarién side). We suggest visiting at the same time the small town of Remedios located just 7 km (4.3 mi) away from Caibarien.
Caibarién doesn't have any impressive tourist attractions besides a few nice colonial buildings on the main square, and the statue of the Giant Crab (which became the emblem of the city); it's simply a typical Cuban town and a perfect place for immersing yourself in the local way of life, interact with the locals, and perhaps enjoy a drink or eat in one of the local restaurant or in a paladar (private home restaurant). Its Malecon (seaside boulevard) has recently been redone with a new road, palm trees, and several bars and cafés.
General information about Caibarien:
• Founded October 26th, 1832
• Commonly called "La Villa Blanca" (the White City)
• Area: 212 km2 (82 sq mi)
• Population (2009): 37,902 inhabitants
Given the increasing number of all-inclusive resorts in the region (in the off-shore cayos) and the increased demand for hotels' staff, the Cuban government built a new neighborhood in Caibarién composed of several apartment buildings to accommodate employees working in the tourist pole of Cayo Santa Maria, Cayo Ensenachos and Cayo Las Brujas. An excellent initiative because many of them were living in the city of Santa Clara and had to spend three hours daily to get to/from work!
© Google Earth. Click or move your mouse pointer over the markers to view description. Click & Drag to change map area and see other points of interest in the region. Zoom in or out using the + and - buttons or your mouse's wheel.

Click to view our Gallery of Caibarien.
Lily & Normand
© cayosantamaria.info
© destilino.com