How to get to Cayo Santa Maria - BY AIR
There's a small domestic airport on Cayo las Brujas (just next to Cayo Santa Maria), but the Abel Santamaria Airport (aka Santa Clara Airport, code: SNU) is the closest INTERNATIONAL airport serving Cayo Santa Maria (plus Cayo Las Brujas and Cayo Ensenachos). For more information on these two airports, please visit our Airports section. Several airlines offer flights to Santa Clara, mostly from Canada, Europe and South America. The distance between the Santa Clara Airport (SNU) and Cayo Santa Maria is 116 km; travel time is about 90 minutes. If you arrive in Havana, you'll find at the bottom of this page information on how to get to Cayo Santa Maria.
If you arrive in Santa Clara
Here are the Ground Transportation options to get from the Santa Clara Airport to Cayo Santa Maria:
1. Chartered bus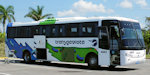 Most tourists arriving in Santa Clara by air already have the transfers pre-arranged by a tour operator and included in their vacation package. If it's your case, then when you exit the terminal you will be greeted by your Tour Operator representative who will show you which shuttle bus to board for the transfer to your hotel.
2. Taxi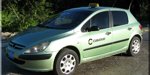 You can find them in front of the Terminal building.
A taxi ride from the Santa Clara Airport (aka Aeropuerto Abel Santamaria) to Cayo Santa Maria costs 60-70 CUC one-way, always agree the fare first.
3. Public Transportation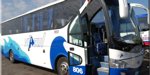 There's no bus station at the airport, but there's a VIAZUL bus station in Santa Clara city. From the airport you have to take a taxi to the bus station (15-20 min.). The VIAZUL bus departs from Santa Clara at 10:30 am daily, it stops in Camajuani, Remedios, Caibarien, Cayo Las Brujas, Cayo Ensenachos, and finally arrives in Cayo Santa Maria at 1:10 pm. The bus ticket costs 13 CUC (check www.viazul.com for up-to-date itineraries and prices).
4. Car rental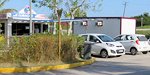 Cubacar, Rex Rent-a-Car, Havanautos, and Via Rent-a-Car Transgaviota.
Booking in advance is recommended, especially during the high season when the demand for rental cars often exceeds the supply. Prices vary from approximately 50 CUC to 125 CUC per day depending on car category and time of year.  Insurance is mandatory and usually costs 15 CUC per day. For more information please visit our car rental page.
If you arrive in Havana
For travelers arriving at the Jose Marti International Airport (aka Havana Airport) and who don't have pre-arranged transportation, here are 3 options to get to Cayo Santa Maria :
1. Charter bus transfers offered by Gaviota
You can purchase from Grupo Gaviota (www.gaviota-grupo.com/en) a collective transfer between Havana and the "Cayo de Villa Clara" for 25 CUC one way. From Havana departure is at 5:00 am, and from the Cayos departure is at 3:00 pm.
2. Public Transportation (by road)
Take a VIAZUL bus from Havana to Santa Clara (www.viazul.com), and then from Santa Clara you have three (3) ways to get to Cayo Santa Maria: with another VIAZUL bus (13 CUC), by taxi (app. 65 CUC), or by renting a car.
3. Domestic flight
Take a domestic flight from Havana (Playa Baracoa Airport) to the Las Brujas local airport (MUBR), operated by Aerogaviota (www.aerogaviota.com). Then take a taxi from the Las Brujas Airport to your hotel (10 to 20 km, depending on hotel)
Lily & Normand
© cayosantamaria.info
© destilino.com