How to get to Cayo Santa Maria - BY BUS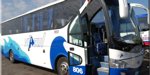 The "Cayos de Villa Clara" (Cayo Santa Maria, Cayo Las Brujas and Cayo Ensenachos) are three official stops of the VIAZUL bus service (on their Trinidad-Cayo Santa Maria route). From almost anywhere you are in Cuba you'll easily find a way to get to Santa Clara City with Viazul. From the Santa Clara bus station there's a Viazul bus leaving at 10:30 am daily heading north (towards the Cayos), the ticket costs 13 CUC, here's the itinerary:
From Santa Clara to the Cayos :
•Santa Clara: Departure 10:30
•Camajuani: Arrival 11:05 / Departure 11:10
•Remedios: Arrival 11:35 / Departure 11:40
•Caibarien: Arrival 11:45 / Departure 11:50
•Cayo Las Brujas: Arrival 12:25 / Departure 12:30
•Cayo Ensenachos: Arrival 12:35 / Departure 12:40
•Cayo Santa Maria: Arrival 13:10
From the Cayos to Santa Clara :
•Cayo Santa Maria: Departure: 2:10 pm
•Cayo Ensenachos: Arrival 14:40 / Departure 14:45
•Cayo Las Brujas: Arrival 14:50 / Departure 14:55
•Caibarien: Arrival 15:15 / Departure 15:20
•Remedios: Arrival 15:30 / Departure 15:35
•Camajuani: Arrival 16:05 / Departure 16:10
•Santa Clara: Arrival 16:50
Itinerary and price are subject to change, please visit the VIAZUL website, www.viazul.com, for the up-to-date itinerary and ticket prices.
Lily & Normand
© cayosantamaria.info
© destilino.com