Where is it ?
Cayo Santa Maria is a small island, about 16 km (10 mi) long by 2 km (1.2 miles) wide, located in the Bahia de Buenavista off the northern coast of the province of Villa Clara, in Cuba,. With its two neighboring islets, Cayo Ensenachos and Cayo Las Brujas, they together constitute the resort destination of "Los Cayos de Villa Clara", also known as the "Cayeria del Norte" or simply Cayo Santa Maria (the main island of these cayos).
The mini-archipelago "Cayos de Villa Clara" is itself part of a much bigger archipelago called "Jardines del Rey" (King's Gardens); it's in the western part of it. Click here to see an aerial view of the King's Gardens archipelago. The region is also part of the Buenavista Biosphere Reserve recognized by UNESCO.
On Cayo Santa Maria we can find several all-inclusive resorts, three small commercial centers, and miles of pristine beaches! The island is uninhabited, and from an administrative point of view, it's part of the municipality of Caibarién.
The "Cayos de Villa Clara" are connected to the main island of Cuba by a 48-km (29.8 mi) causeway (called Pedraplen in Spanish). This colossal project was carried out in 10 years (1989-1999) and the work was done by the company "Campaña de las Villas". This "road over the sea" starts in the coastal town of Caibarién and reaches first Cayo Las Brujas, then Cayo Ensenachos, and finally Cayo Santa Maria.
A top priority when building the causeway was to preserve the environment by making an opening every kilometer, so they made 46 bridges. This way more than 90% of the original water exchange was preserved in order to minimize the negative impact of the construction on the local marine life. The 46 bridge-openings are totaling 2,298 meters; the longest one is the "Puente de Los Barcos" (350 meter long / 7 meter high) crossing over the "Canal de Los Barcos" (boat channel), this bridge is a popular fishing spot.
The capital of the province of Villa Clara is Santa Clara; it's 110 km from Cayo Santa Maria. It's in Santa Clara where you can found the Abel Santamaria Airport (aka Santa Clara Airport, code: SNU), which is the closest international airport serving Cayo Las Brujas, Cayo Ensenachos and Cayo Santa Maria. The transfer between the Santa Clara Airport and Cayo Cayo Santa Maria resorts takes about 90 minutes (116 km). There's a small airport nearby, on Cayo Las Brujas (code MUBR), but it's only for domestic flights.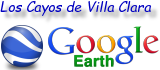 The closest towns from Cayo Santa Maria are: Caibarién (about 61 km / 38 mi), Remedios (about 68 km / 42 mi) and Camajuani (about 89 km / 55 mi). The central location of the province of Villa Clara allows visitors to easily access some other well-known places such as: Santa Clara (110 km / 68 mi), Cienfuegos (177 km / 110 mi), Trinidad (198 km / 123 mi). Cuba's capital, Havana, is however quite far from Cayo Santa Maria, about 386 km (240 mi).
© Google Earth. Click or move your mouse pointer over the markers to view description. Click & Drag to change map area and see other points of interest in the region. Zoom in or out using the + and - buttons or your mouse's wheel.
You're also welcome to visit our websites dedicated to the other keys in the Cayos de Villa Clara: Cayo Ensenachos and Cayo Las brujas
Lily & Normand
© cayosantamaria.info
© destilino.com