Marina Gaviota Las Brujas

The Marina Gaviota Las Brujas is located on the small island nammed Cayo Las Brujas (Witches Island). It's for now the only marina in the resort destination "Cayos de Villa Clara" (which includes Cayo Santa Maria, Cayo Ensenachos, and Cayo Las Brujas), so every nautical excursions depart from this marina.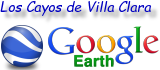 This is also where the Dive Center is located, and the Fishing Base. Note that this is a "charter" marina, not an international marina, visiting boats are not allowed. it's a modern marina (built in 2002) with all the facilities: a 48-meter dock, catamarans, fishing boats, dive boats, dive shop, speed boats, kayaks, snack bar, etc.
Click to see the Brochure provided by Gaviota (pdf).
Address:
Cayo Las Brujas, Cayeria Norte, Caibarien, Villa Clara, Cuba
Phone: (53 42) 350013 - (53 42) 350113
Fax: (53 42) 350013 ext. 12
Email address: esp.comercial@marina.lasbrujas.co.cu
Opening hours: 9:00 am to 5:00 pm, daily
For detailed information about the nautical excursions, such as: Catamaran cruise, diving, fishing, etc.), please visit the Tours & Excursions section.
When you book a nautical excursion, transportation between your hotel and the marina is always included. Here are the distance between each hotel and the Marina Gaviota:
• Villa Las Brujas (150 m)
• Playa Vista Mar (4.8 km)
• Dhawa Cayo Santa Maria (3.8 km)
• Angsana Cayo Santa Maria (4.5 km)
• Iberostar Ensenachos (10.1 km)
• Melia Buenavista (16.5 km)
• Sol Cayo Santa Maria (14.3 km)
• Melia Cayo Santa Maria (13.9 km)
• Melia Las Dunas (14.1 km)
• Playa Cayo Santa Maria (14.6 km)
• Starfish Cayo Santa Maria (16.3 km)
• Royalton Cayo Santa Maria (16.0 km)
• Memories Paraiso Beach Resort (16.6 km)
• Grand Memories Santa Maria (16.7 km)
• Golden Tulip Aguas Claras (17.3 km)
• Labranda Cayo Santa Maria (19.8 km)
• Ocean Casa del Mar by H10 (20.7 km)
• Paradisus Los Cayos (21.8 km)
• Valentin Perla Blanca (22.8 km)

Click to view our Gallery of the Marina.
Lily & Normand
© cayosantamaria.info
© destilino.com